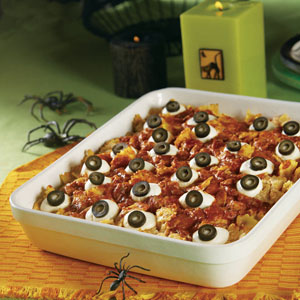 BAKED EYEBALLS CASSEROLE

The "eyeballs" that top this spooky
Casserole are made from mozzarella
Cheese and sliced olives. But the
Cheesy, baked pasta that lies below
Is a real treat that everyone will enjoy.
Prep Time: 15 mins
Total Time: 50 mins
Servings: 8
INGREDIENTS:
Vegetable cooking spray
1 jar (24 ounces)
Prego® Italian Sausage
And Garlic Italian Sauce
1 container (15 ounces)
Part-skim ricotta cheese
3/4 cup grated Parmesan cheese
7 cups bow tie shaped pasta,
Cooked & drained
1 container (8 oz)
Small fresh mozzarella
Cheese balls (about 1 inch)
2 Tbsp Sliced Pitted Ripe Olives
DIRECTIONS:
1
Spray a 13 x 9 x 2-inch shallow baking dish
With the cooking spray.
2
Mix 1 1/2 cups of the sauce, ricotta cheese,
1/2 cup Parmesan cheese and pasta in the
Prepared dish.
Spread the remaining sauce over the pasta
Mixture. Sprinkle with the remaining Parmesan
Cheese and cover the dish with foil.
3
Bake at 400 degrees F. For 25 minutes or until
Hot and bubbling. Arrange the cheese balls
Randomly over the pasta mixture.
Place a sliced olive on each cheese ball.
Let stand for 10 minutes before serving.
Easy Substitution Tip:

If fresh mozzarella cheese balls are not
Available, substitute 1 package (8 ounces)
Fresh mozzarella cheese. Cut crosswise into
Thirds. Cut each third in 6 wedges, for
Triangle-shaped eyes.
__._,_.___
~~~~~~~~~~~~~~~~~~~~~~~~~~~~~~~~~~~~~~~~~~~~~~~~~~~~~~~~~~~~~~~~~~~~~~~~~~~