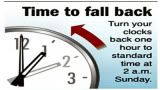 To be on time for your Sunday activities, remember to turn your clocks back one hour. The return to Standard Time is a great reminder to change the batteries in your smoke detectors, too.
Most of the United States, including New Orleans, will gain an hour at 2 a.m. Sunday by turning back clocks to Standard Time.
Why do we observe Daylight Saving Time? The simple answer is to save on energy costs.