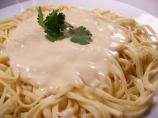 This is the best Alfredo sauce ever. This is several recipes combined into one. You can also add your choice of meat (chicken, shrimp or even crab). A few of my grandchildren do not like red sauce so this is something I whip up as a side dish for them when we have meatballs and red sauce. It has been a hit so far. I made it today using butter, a T of flour whisked into the melted butter and canned evaporated milk with a package of 6 Italian cheese shredded blend and 4 slices of white American cheese. So you see the recipe is flexible and no fuss. It was still a hit so this is a great basic recipe. Especially if you like a good dipping sauce for your garlic bread.
Better Than Olive Garden Alfredo Sauce
| 25 min | 5 min prep |
SERVES 4 -6
Ingredients
* 1/2 cup sweet butter
* 2 garlic cloves, minced
* 2 cups heavy cream
* 1/4 teaspoon white pepper
* 1/2 cup grated parmesan cheese
* 3/4 cup mozzarella cheese
* 1 (12 ounce) box angel hair pasta
Directions
1. Melt butter in medium saucepan over medium/low heat.
2. Add the garlic, cream, white pepper and bring mixture to a simmer.
3. Stir often.
4. Add the Parmesan cheese and simmer sauce for 8-10 minutes or until sauce has thickened and is smooth.
5. When sauce has thickened add the Mozzarella cheese and stir until smooth. STIR FREQUENTLY.
6. While the sauce cooks, boil noodles for 3-5 minutes.
7. Place pasta on serving plates and spoon sauce over pasta.